ACT is equipped to respond to any disaster and our services are available nationwide:
300+ strategically located ACT First Responders
6,000 properties in ACT's pre-event program
1000+ restoration and recovery jobs annually
Nationwide disaster response toll free phone number: 833-NEED-ACT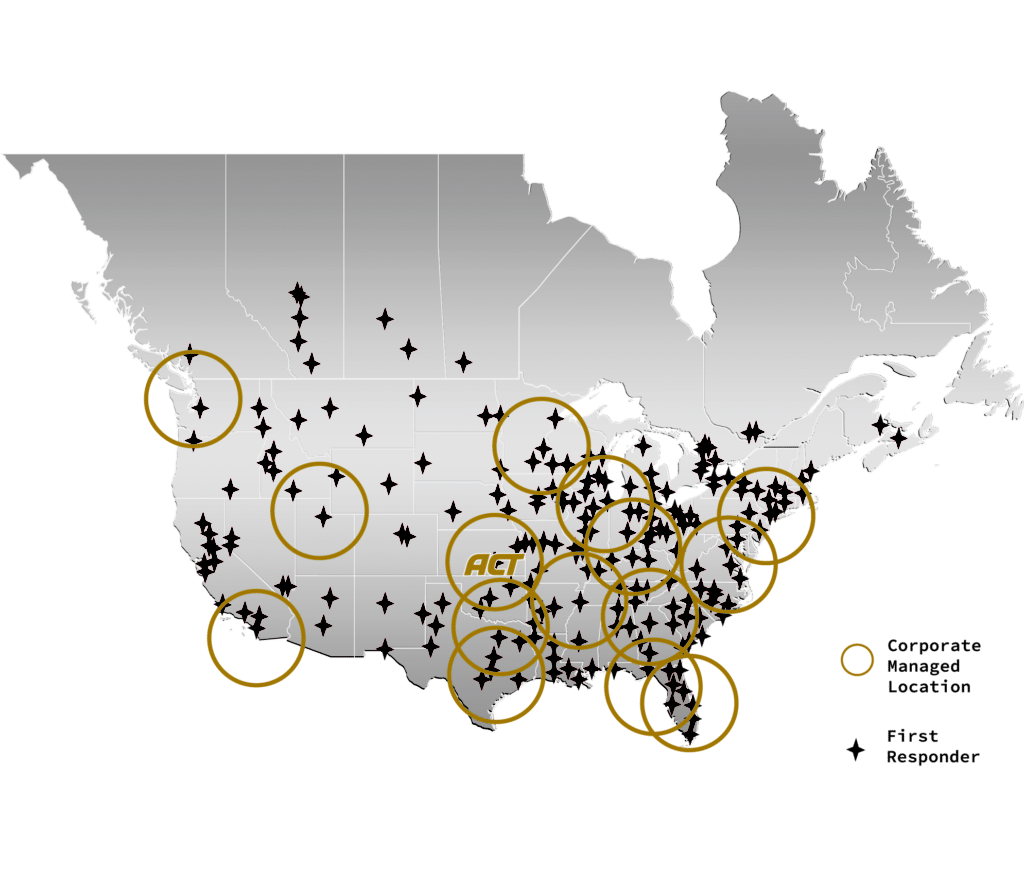 Corporate Managed Locations
Atlanta, Chicago, Dallas, Fort Smith, Los Angeles, Memphis, Orlando, Richmond, Salt Lake City, Seattle, Wichita
ACT First Responders
300+ locations and growing
Examples of our nationwide disaster response & recovery service:
Clinton, Arkansas
ACT responded to senior living facilities after multiple tornadoes struck north central Arkansas.
San Diego, California
Extensive smoke damage due to wildfires affecting both the interior and exterior. Every square inch was cleaned to remove soot and smoke damage. All work was performed while the facility was 100% occupied.
TEXAS
A prominent luxury hotel in downtown Fort Worth experienced storm damage that led to over 200 guest rooms that required restoration ranging from simple drying to full demolition. ACT was able to help the hotel remain open while restoring and rebuilding all rooms on time and under budget.
OKLAHOMA CITY, OKLAHOMA
Extensive smoke and fire damage shut down a large retirement and assisted living center. Every square inch of the public areas, meeting rooms and guest rooms were cleaned per industry smoke damage standards. ACT helps return residents and staff to normal operations and lifestyle.
WILMINGTON, DELAWARE
Two separate losses affected this property within a two week time frame. One loss resulted in heavy water damage due to a ruptured water line. The second resulted in fire damage throughout the structure. ACT mitigated both losses promptly and efficiently for the client.